Pelorus Sound/Te Hoiere is three times the size of the other main Sounds in Marlborough – meaning there's even more to explore and discover. This, along with its remoteness and rich seafood stores, made the area attractive to Māori and European explorers from early times - those passing through and those looking for a place to call home.
Māori explorers and arrivals
Not far from the head of Te Hoiere/Pelorus Sound, where the Rai and Te Hoiere/Pelorus Rivers intersect, is Titi Raukawa – "where the two waters meet".
This is the place where, in the 13th or 14th century, Ngāti Kuia's oldest tipuna (ancestor) Matua Hautere tied up his waka called Te Hoiere ("the long paddle") after a long journey up Te Hoiere/Pelorus Sound. He was guided there by kaikaiawaro (dolphins).
Ngāti Kuia tīpuna (ancestors) were some of the initial explorers and settlers of Te Hoiere and the wider top of the South. They descended from the Polynesian navigators Māui and Kupe, who explored this region.
Over the next century, Ngāti Kuia were largely present around Te Hoiere, while members of Ngāti Apa ki te Rā Tō were found in the western regions of Te Hoiere, including Anamahanga/Port Gore and Rangitoto ki te Tonga/D'Urville Island.
Like Ngāti Kuia, and eight other top of the south iwi, Ngāti Apa also trace their ancestry to the Kurahaupō waka.
The other iwi with historic claims to Te Hoiere is Ngāti Koata, descendents from the Tainui waka. In the late 1820s, Ngāti Toa chief and warrior Te Rauparaha invaded the upper South Island, raiding and killing as he went. As more contingencies of North Island war parties arrived, Ngāti Kuia and Ngāti Apa people were displaced as manawhenua iwi (the iwi with authority over the land), and Ngāti Koata settled in, among other areas, Rangitoto ki te Tonga/D'Urville Island, Croisilles Harbour and outer areas of Te Hoiere/Pelorus Sound.
Today, Ngāti Kuia continues to be kaitiaki, or guardians, of Te Hoiere/Pelorus Sound.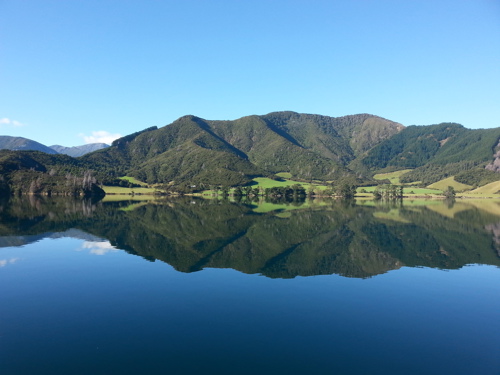 European explorers and settlers
Pelorus Sound/Te Hoiere may be the largest sound in Marlborough, but from the open sea of Cook Strait it's well concealed.
This is why, writes Lorain Day in her book Time and Tide – the story of the Pelorus Mail Boat – European explorers including Abel Tasman, Dumont d'Urville and James Cook completely missed it on their expeditions.
It was Lieutenant Philip Chetwode, with whaler Jacky Guard onboard – one of the first Europeans to live on the South Island - who finally entered the Sound on their brig the HMS Pelorus, which was on a navigational voyage from Picton.
The first Europeans to live in the newly re-named named Pelorus Sound/Te Hoiere were Will and Augusta Harvey, who settled at Clova Bay in 1849 and were followed by other Europeans by the next year. Lorain writes they began to clear the land for farming and crops, and lived off seafood, native vegetation, pigs and goats in the meantime.
In 1864, after the 1858 establishment of Havelock at the Māori settlement called Te Motu o Weka, gold was found up the Wakamarina valley and the short lived but intense gold rush began, turning Havelock into a bustling port town. When the gold ran out, sawmilling took over, and Nydia Bay – one of today's mail boat stops – had a 300 metre long wharf for timber exports to Australia, writes Lorain. When the logs ran out, farming took over.
With all these new populations of settlers across the Marlborough Sounds – in fact, more people were living in the Sounds than at Havelock and the Grove, Lorain writes - the mail had to reach them somehow, and small post offices popped up all over the Sounds serviced by the first mail boat exchange services and boats. 
Reference
History referenced from Lorain Day in her book Time and Tide – the story of the Pelorus Mail Boat.